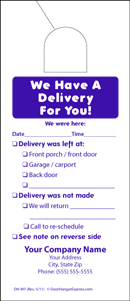 #DH-M7
Click for larger image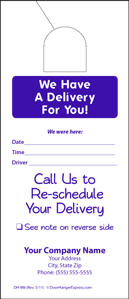 #DH-M8
Click for larger image
Delivery Door Hangers

Choose from two styles
Size: 3-2/3" x 8-1/2"

Features: Hole and slit for hanging on door knobs.

Ink Colors: Black, blue, red or green ink on white door hanger.

Stock: Prices below are for 9 mil white card stock. Also available AstroBright 65 lb. Cover Colors: yellow, green, orange, pink, purple, and blue
for $20 per thousand ($10 for 500) additional. Call to order or indicate color choice on our order form or in comments
section of shopping cart. You may assort hanger colors (not ink colors) for $5 per color change.

Production Time: Normal production time is 5 to 10 working days.

Customization: This item can be customized and back printing is available. Call us for pricing.